Staff
Staff
Groundbreaker
Whitelisted
Whenever you are having issues or we release an update, it's a good idea to clear your FiveM cache.

Recently, the developers of FiveM changed the location of the cache folders which you should delete. If you installed FiveM by putting the `FiveM.exe` inside of an empty folder, the data folder will be right inside of your FiveM folder underneath FiveM Application Data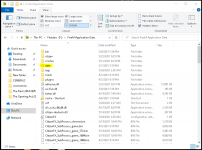 If you didn't, then you should have a Shortcut that takes you to the folder directly, called "FiveM Application Data". You can also just enter %localappdata%\FiveM\FiveM.app\cache in your Windows Explorer address bar or Start Menu:

Go inside the data folder and delete only these three folders

Data/cache/
Data/server-cache-priv/
Data/server-cache/

Don't delete the game folder or you will have to re-download the game cache.

After that, you'll see all of the resources re-downloaded when you reconnect to the server!
Last edited by a moderator: