On December 1, 2021, Stella moved to Los Santos by herself after realizing she was ready to start fresh. With no friends and family, she spent her first few days going around the city to meet as many new friends as possible. On her first night, she was treated to a dinner at Pearl's by a new friend, Achmed, and witnessed another new friend, Keith, enjoy two lobster tails for the first time only to learn that the shells are not to be consumed. This was how Stella was introduced to Mount Zonah Medical Center.
On Stella's third night in the city, she met Desmond Sykes and Charlotte Sykes who took her to go carskating on the frozen Alamo Sea. Stella quickly fell in love with adventuring out to the frozen Alamo Sea and was ready to enjoy all the outdoor adventures her new home has to offer. Stella was introduced to Jeb Manbroni, the owner of Cockatoos Nightclub, and was hired to work as a bartender. She was ready to make new friends at her first job in the city.
Besides carskating, Stella enjoyed a fair share of slipping on ice throughout the city.
​
Stella's innocence and trust in making new friends is unstoppable. On December 6, 2021, Stella was taken hostage for a jewelry store robbery and her friends later identified the criminals as the Animals. Excited at the potential to make new friends, Stella was full of questions and wanted to make conversations with the hostage-takers and the friendly police on the scene. That same night, Stella was kidnapped by
Chamberlain Gangster Families
"CGF" outside of Hardcore Comic Store after wanting to chat with them out of curiosity after being told by others to stay inside the store while Antonio Benitez had a chat with them. During the car chase with four police units, Stella offered the gang members food and even offered the police food. The police almost managed to help Stella get out of the situation safely before continuing the car chase through the city. Stella was able to talk on the phone with Antonio and hinted at "rat pizza," a topic in their earlier discussion outside of Hardcore Comic, to give him hints of her location in the active car chase. Inside the tunnels, a shootout took place between CGF and the police. Stella was shot in the crossfire while remaining in the car and had to be taken to the hospital for treatment. After being released from the hospital, Stella spoke with two cops outside of Hardcore Comic and was informed of the gang members' names. Despite all this on one wild night, Stella was not deterred from continuing to be friendly to all those she come across and offering each and every person food and drinks.
Jennifer Welsh, formerly Jennifer Sallison, quickly became Stella's friend. She witnessed Stella receiving her first car as a gift from Teddy at Mosley's. She was Stella's first friend in the city and Stella secretly wanted to admit that Jennifer was already her best friend. Jennifer would call her up to say hello and spend some time together. Stella quickly grew to love and care for her and cherished every moment she got to spend with her busy cop friend.
Besides being Stella's first best friend in the city, Jennifer was the one who informed
Hudson Welsh
of her interest in acquiring a job at Shadowcade. On December 7, 2021, after a quick interview with Welsh, Stella was offered and accepted the position at Shadowcade as a bartender. Welsh showed Stella how to clock in and gave her a tour of the establishment. Before clocking off, Stella received a phone call from a customer claiming to be interested in purchasing a Muffy plushie. Welsh went to unlock the door for the customer and Stella quickly followed behind, hearing "we want to talk to Stella" through the door. Rushing outside, Stella immediately realised what was happening when she was surrounded by three men in green. She was forced into their vehicle and the CGF drove off with Stella to a secluded beach area for questioning. As revenge for being locked up for 700 months, Stella was forced to reveal Antonio and Tobi's names to the CGF members in order to keep herself safe. She also gave them Antonio's phone number. Stella was brought back to Shadowcade with no injuries but felt guilt and fear for her friends at Hardcore. Only after being yelled at, in Stella's perspective, by Virgil Bogard and Abigayle Moore and the CGF hurting Carson and Delilah did Stella start to realize the development of her fear of the CGF and their lack of compassion.
---
Relationships​
Onyx Angel
- Stella's wife. On a night when Stella was hammered with alcohol, caffeine, and sugar, she was brought to the drift tracks by
Eavan Cree Carter
"Evie" to hang out with friends. With much difficulty to stay still and silent, Stella ran around the track and eventually climbed into
Onyx Angel
's car. Onyx texted Stella that she talked enough for the both of them. She listened to Stella's rambling as she drove around the track multiple times. The two of them saw each other occasionally around the city with mutual friends. They started talking and soon hung out frequently. On February 4, 2022, Onyx gave Stella the Valentine's Special and a pink bouquet of flowers. She confessed to liking Stella and Stella definitely made a mental note of that. On February 12, 2022, Onyx surprised Stella with a picnic date on the Del Perro Beach and asked her to be her official girlfriend. Of course, Stella said yes! On March 5, 2022, Onyx brought Stella to the El Gordo Lighthouse for what she assumed to be a date.
Sally Nailburry
soon showed up and Onyx proposed to Stella with a beautiful ring from
Remington Fine Gifts + Jewelry
. After much planning and organizing, Stella and Onyx parachuted into their wedding at the top of Mount Chiliad and got married on the 24th of March, 2022, witnessed by many friends and family and officiated by the one and only
Hudson Welsh
. On July 5th, 2022, Stella and Onyx agreed to go on a break from the relationship. It appeared to be too much for Onyx that she got up and left in the middle of night with a note saying she's moving to Toronto. On July 10th, 2022, Stella officially filed for divorce with the help of Lawyer Katyarina LaBeaux. The divorce was approved by Knox Turner on July 18th, 2022.
Left: Custom engagement ring Onyx proposed to Stella with. Right: Custom engagement ring Stella got for Onyx.
​
Emily Honts
- Stella's ex-girlfriend. Stella was working at ShadowCade one night when Emily Honts walked up looking at the plushies. She told Stella that she had just lost a good sum of money at the casino and could not afford one. Stella proposed that if Emily could go a day without gambling, she would gift her a Muffy plushie. Hours later, the two ran into each other at
Premium Deluxe Motorsport
"PDM" and Stella asked Emily about her gambling addiction. Upon a satisfying answer, Emily received a plushie as promised. The two started flirting outside of PDM surrounded by a couple of Emily's friends. They later took the conversation into private messages and fondness for each other grew. They spent plenty of time together adventuring throughout San Andreas on unofficial dates. They eventually made it official on December 26, 2021, when Emily took Stella to the romantic apartment complex across the street from Mosley's in the Southside and popped the question. Unfortunately, as time goes on, Emily and Stella mutually ended their relationship due to differences on February 2, 2022.
---
Notable Friendships​
Eaven Cree Carter
- At the beginning of their friendship, Evie looked after Stella as much as possible to make sure she didn't get injured. With the many hostage situations and injuries in the wilderness, Evie sneakily set up a location tracker on Stella's phone. After Stella found out, Evie gave Stella more freedom with the trust and belief that she could take care of herself despite being known for getting caught up in hostage situations and frequenting the hospital.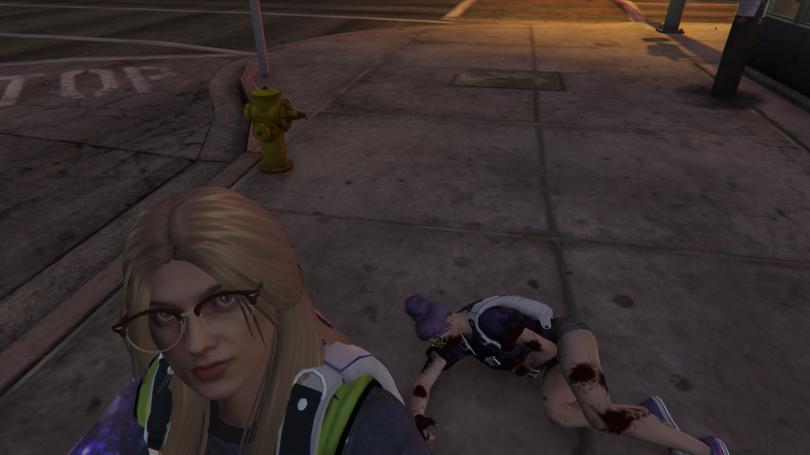 Stella taking a selfie with Evie being knocked down after a poor base-jumping landing outside Mosley's.
​
Kyedae Bae
- One of the most notable moments for the beginning of the two's friendship was went Stella Day gave Kyedae roughly $45,000 for her car upgrades and customization. Kye and Stella were a good pair of friends for the longest time, both enjoying to UWU. Eventually, Mina Teller adopted both Kye and Stella and the two became sisters.
Erin Murphy
-
Erin Murphy
and Stella Day met for the first time outside of Hardcore Comic Store when Stella was being interviewed by Mikey for a segment on her marathon around the state. Erin was behind the camera watching Stella respond to questions, but she really got to know Stella after numerous adventures together. The two bond over time in the wilderness and exploring the state. They can often be found breaking out puns and annoying those around them.
Skylar Adams
- Their friendship started when Stella said the reindeers on Skylar's sweater were giving each other piggy back rides.
Veronica Corvus
- Stella Day and Veronica Corvus met at
Public Works
Headquarters. According to Veronica, Stella was the first person to speak to her since she got into the city a couple days prior. The two of them quickly grew a connection. Veronica took Stella under her wings for ride alongs and would call her "Little Bird" over the radio. Veronica was there for Stella before and after getting into the preliminary stage of becoming a PW hire. Since Stella got hired, Veronica has started to call Stella "Little Bee" over the radio. Heck, Veronica even bought Stella a car that she wanted!
Stella and Veronica both randomly ended up watching the fireworks from the same spot.
​
Niko McReary
- Stella Day was introduced to Niko McReary by Evie Carter as the other law-abiding driver in the state. The two of them can be found stocked up with food and drinks to feed any and many hungry mouths.
---
Occupation​
Cockatoos
- On 3 December, 2021, Stella Day was hired as a part-time bartender at Cockatoos by owner Jeb Manbroni.
ShadowCade
- On 7 December, 2021, Stella Day was offered and accepted a bartender position at ShadowCade.
Stella Melon
- On 7 March, 2022, Stella Day and then co-owner,
Onyx Angel
, founded
Stella Melon
on Great Ocean Highway. After the divorce on July 18th, 2022, Stella became the sole owner of Stella Melon. As of November 2022, Stella and her mom, Mina Teller, co-owns the business.
Public Works
- On 3 July, 2022, Alwis Pulley surprised Stella Day by calling her up to the special chair for a sorting hat ceremony during a
Public Works
meeting to bring her onboard as a preliminary ride along. She has been sorted into the Crimson House. A little less than 24 hours later, Stella Day was taken to a bee emergency by Alvis Pulley to save Bevans from an extreme bee allergy reaction. As a reward, the Crimson House was given a point. Soon after, Alvis announced the promotion of Stella Day to a probationary Public Works employee.
Stella Day in Public Works gear with Veronica Corvus.
Stella Day in the hot seat getting sorted into a house by the sorting hat.
​
Weazel News
- On 11 November, 2022, Stella was hired onto
Weazel News
as an editor.
Galaxy Nightclub -
On 27 November, 2022, Stella was hired onto Galaxy Nightclub as part of their partnered
Businesses
and bartenders. With this partnership, she will supply the nightclub with non-alcoholic beverages from Stella Melon.
---
Groups​
Order of the Raccoon - On November 27, 2022, Stella received a call from Dominique Sekrit (Domi) inquiring about her interest in becoming a raccoon. Stella was given the option to become an honorary raccoon or an official kit with the ability to evolve into a full raccoon. After many questions from Stella, Alice Medlin and Domi threw Stella into a sacred dumpster in the Vespucci Beach area and swore Stella in as a kit.
Legion of Whom (L.O.W.)
- On February 18, 2021, Stella was invited to join the
Legion of Whom
and became the secretary of the group. After months of only having the goth Booba surfboard to hold at L.O.W. meetings, she was gifted a Toby Toy by Mazi.
L.O.W. during a sit-in to protest against the anti-mask policy at Mount Zonah Medical Center.
​
Shoguns
- Stella was unofficially seen as the baby sister or honorary member of the Shoguns who will protect her at all costs despite knowing nothing about the group. Her association with the group has shifted dramatically since Mutiny with multiple friends and family members leaving the group in the summer and autumn of 2022.
Stella posing in the middle of a Shogun group photo during a war.
​
UWU Gang
- Made up of people dressed up UWU-like Princess Bubblegum clothing who goes around town to reverse rob individuals.
The UWU Gang taking a selfie outside the clothing store.
​